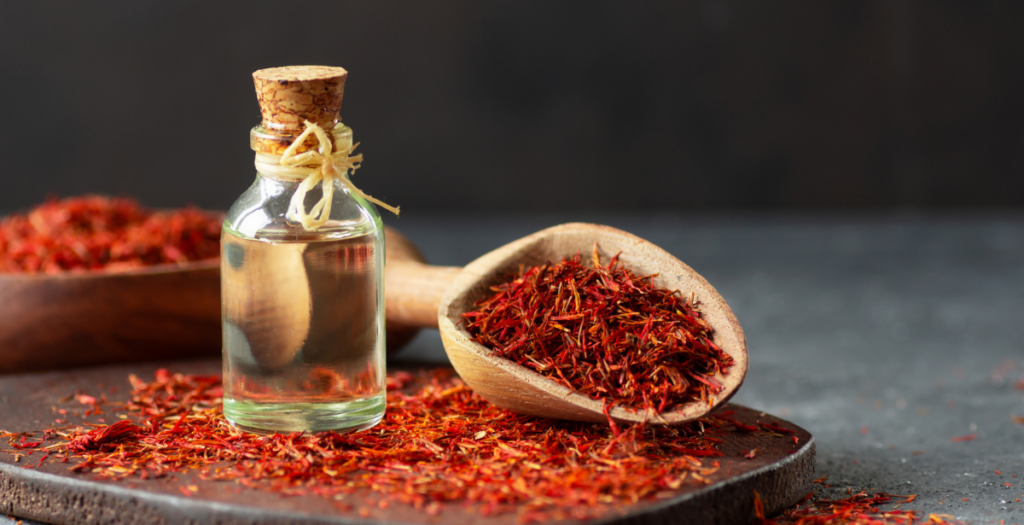 An often overlooked oilseed, safflower may not be as popular or prolific as its cousin crop, the sunflower. However, it still packs many of the same benefits into the specialty oil extracted from its seeds. In fact, safflower seed oil contains many of the same nutritional and functional properties as sunflower oil but at a lower cost—providing a worthy alternative ingredient for cooking, cosmetics, personal care products, and industrial applications around the world.
Although sunflower and safflower seeds are processed in much the same way and yield very similar oils, each plant and its products have pros and cons. By understanding the challenges and opportunities surrounding safflower seed oil, as well as the differences between sunflower oil vs safflower oil, processors can tap into the full potential of this specialty seed as the market continues to grow.
Global safflower production
Safflower (Carthamus tinctorius L.) has been cultivated for thousands of years, dating back to 2500 BC. Traditionally, the plant was prized for its brilliant orange-red blossoms, which were used as a source of natural dye to color textiles in Ancient Egypt.
When safflower first arrived in America in the early 1900s, its relatively low fat content initially made it unattractive to producers as an oilseed crop. However, selective breeding programs increased the oil content in safflower seeds from about 30% in 1950 to more than 45% by 1990—similar to the selective breeding efforts that boosted the oil content in sunflower seeds around the same time.
Although safflower seed oil production increased throughout the 20th century, its growth paled in comparison to sunflower—which has become the third most popular oilseed in the world with global production of 20 million metric tons per year. Global production of safflower seeds, by comparison, barely topped 653,000 metric tons in 2020. Russia, the leading sunflower producer, ranks as the second largest safflower producer behind Kazakhstan, which supplies more than one-third of the world's total volume. Both crops are also grown throughout the U.S., from California to the northern Great Plains.
Today, most of the world's safflower production focuses on oil-rich seed varieties for extraction, although some whole raw seeds are directly marketed as bird seed. The flowers themselves still supply plant-based dyes for fabric and food, and the petals are even consumed in some parts of the world as an alternative to saffron. (Try doing that with sunflower!)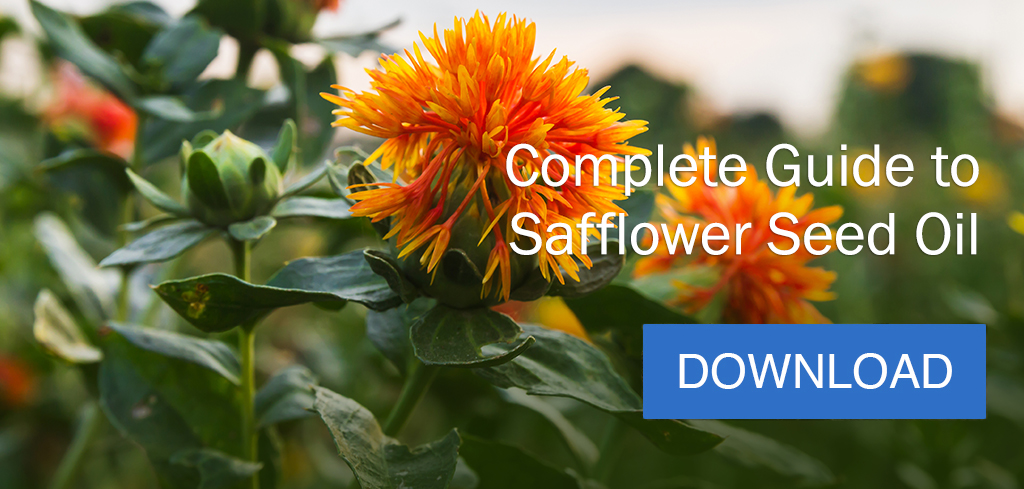 Extracting safflower seed oil
Safflower seeds are processed exactly like sunflower seeds—following the same pre-treatment steps, using the same extraction equipment, and encountering similar challenges along the way.
As with sunflowers, the first and most significant challenge in preparing safflower seeds for extraction is dehulling—or removing the thick outer shell that encases the kernel. Whereas hulls account for about 20% of the weight of a sunflower seed, safflower seeds comprise about 50% hull and 50% kernel by weight, with an oil content of about 28-32% and protein content ranging from 11-24%. In thin-hulled varieties of safflower seeds, the kernel makes up 55-70% of the weight, with 35-45% oil and more protein than thick-hulled varieties.
Processors use an impact cracker to cleanly break the hull away from the kernel, which helps reduce wear and tear on the processing equipment and increase the protein concentration in the meal.
---
Read more: The Economics of Dehulling Oilseeds
---
Once most of the hulls are removed, safflower seeds are conveyed through a series of machines that break the material into thin flakes, cook it to rupture the seed structure, then dry it to less than 5% moisture in preparation for extraction. These cooked, dried safflower seed flakes can be fed into a screw press that uses mechanical pressure to physically squeeze the oil from the seeds.
High-fat seeds like safflower often require double-pressing to extract as much oil as possible, adding time and costs to the process. Instead, the Anderson Super Duo™ Series Expeller® uses a unique dual-press design to crush the seeds twice in a single pass, extracting maximum oil without additional overhead.
Since mechanical expeller presses don't add any external heat (beyond the frictional heat generated inside the machine), they can also be used to cold press safflower seed oil by skipping the upstream cooking process and sending raw seeds straight to the press. Traditional screw presses require additional torque (or double pressing) to effectively squeeze the oil from these uncooked seeds. Still, the Super Duo's dual-press approach also makes it ideal for cold-pressing.
Installing a high-shear dry extrusion system like the Anderson Dox™ Extruder upstream of the press will extract safflower seed oil even more efficiently. An extruder replaces multiple cooking, drying, and flaking steps by using mechanical energy to quickly shear, cook, and dry the seeds in one multifunctional machine.
The Dox Extruder cooks seeds in just 30 seconds, compared to 30 minutes in a traditional batch cooking vessel. Since safflower seed oil is composed of unsaturated fatty acids that can degrade with excessive heat exposure, this flash cooking process helps preserve the quality of fats and proteins in the seeds.
Safflower is considered a high oil content seed with over 30% fat by weight. Due to its high fat content, the extruder will require a drainage cage to process the material effectively. Anderson's Dox/Hivex extrude is the only high shear extruder on the market with drainage capabilities.
Sunflower oil vs safflower oil
When comparing sunflower oil vs safflower oil, both types of oil are very similar in their properties and applications. They're often used interchangeably in recipes—in fact, some food products list "safflower oil and/or sunflower oil" in their ingredients.
The similarities between sunflower oil vs safflower oil include the following:
Light yellow color
Mild neutral flavor profile
Similar fatty acid composition
Conventional sunflower oil contains about 20% oleic acid (a monounsaturated fatty acid) and 68% linoleic acid (a polyunsaturated fatty acid), which is why it is often called linoleic sunflower oil. However, since polyunsaturated fats are more susceptible to oxidation when exposed to heat, this type of oil can't withstand high temperatures. So, some sunflower seeds have been selectively bred to contain higher levels of oleic acid (82-84%) and about 7-9% linoleic acid. This high oleic sunflower oil is better suited for frying and cooking on high heat.
Similarly, most safflower seed oil on the market is high oleic safflower oil, comprising at least 70% monounsaturated fat. This heat-stable variety is useful for frying and cooking at high temperatures. On the other hand, high linoleic safflower oil contains the highest concentration of polyunsaturated fats of any conventional cooking oil, with about 75-82% linoleic acid. This variety is better suited for making salad dressings, vinaigrettes, and other foods with minimal heat exposure—although it's more commonly used in cosmetics and skincare products.
Of course, the key difference between sunflower oil vs safflower oil is that each comes from a different type of plant. Although both plants are related as part of the same family, they require different growing conditions and climates. Another key difference is that sunflower oil is produced in high volumes around the world, whereas safflower seed oil is produced on a much smaller scale.
Capitalizing on safflower seed oil
Although safflower seed oil isn't quite as common as sunflower oil, its market potential continues to grow, fueled by rising demand for heart-healthy fat alternatives. The global safflower oil market is expected to grow 4.5% over the next ten years, reaching a value of nearly $360 million by 2033.
To keep up with this growing demand, processors are looking for ways to efficiently press quality products from these specialty seeds. The extraction and extrusion experts at Anderson International can provide the equipment and experience to help processors capitalize on this expanding market while navigating the challenges and opportunities of safflower seed oil.
To learn more about the opportunities this overlooked oilseed offers, download Anderson's Guide to Safflower Oil Processing.